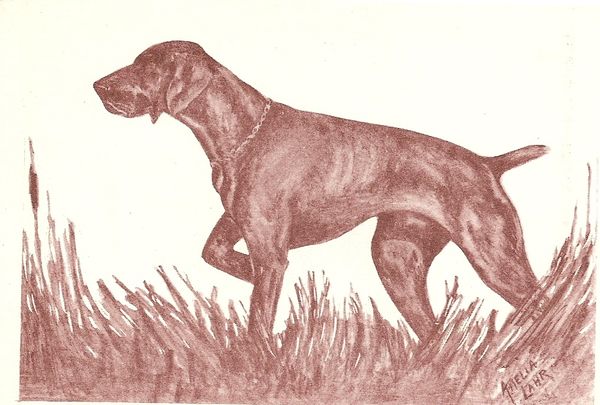 About us

Von Lahrheim Shorthairs was est. in 1950 by Howard and Amelia Lahr of Napa,CA..I'm proud to say were my Grandfather and Grandmother.
The Von Lahrheim Shorthairs started by chance, a lost female GSP was found by My Grandpa, the search begin to find the owner, they were found, the owners could no longer keep her. She was given to my Grandparents along with her AKC papers, little did they know she was the daughter of the first Dual Champion in America! (DC Rusty Vom Schwarenberg) They bred her twice producing some great field dogs.
Like so many of us they loved to hunt upland game and soon became interested in doing Field Trials. Both became involved with helping with AKC Field Trial events which later on was a contribution to the building of the German Shorthaired Pointer Club of California
In the early 70's they found the German Shorthair they felt could represent the breed in AKC Conformation,and Field Competition a solid Liver bitch named CH Erdenreich's Wuerzig (Ziggy) presented to my Dad, Marvin Lahr as a gift. Ziggy quickly earned her AKC Champion title. Also earned placements in AKC Field Trials.

Ziggy, had a big part in breeding for Von Lahrheim.
During 1970 to 1990, Howard and Amelia, Started their quest to breed the dual purpose German Shorthaired Pointers.
Out of each litter, one or more special puppy was picked to carry the name of Von Lahrheim into the show ring and field to earn AKC conformation title's along with field trial points title's.
I have fond memories of my time spent with my Grandparents, one thing stands out as a child 'Having all the puppies to play with and being with my Grandparents and their dogs and also being able to show them and help with field training and playing dog show in the house with my sister and painting their toe nails. I took over the Von Lahrheim name in 1995 but have been in the breed my whole life. My goal is to have gsp's that have titles at both ends of their names with excellent temperaments.Our dogs are EXCELLENT family dogs! When i started out on my own I bought a dog from hunting lines showed him a little but realized he was better in the field, during that time (1999) I was looking for a girl to show and I found an ad for GSP puppies in the paper in another town, I called the man and found out that his bitch was from Placer Country line and he bred back to a champion male from Placer Country, I contacted Dave Miller told him who I was he said Oh I know your Grandparents and Aunt! He told me about his dog and so I called the man back and asked to buy the girl sight unseen, He brought her to my house and when I saw her I said OH MY GOD she is GORGEOUS!!! And it all started there! I named her Brie, She was a high spirited puppy and nothing phased her she was bold and smart. She is "My" Foundation bitch.
I now have her grandkids and great grandkids. I am very happy with what I have produced, they excell in the field, agility and the show ring and are happy loving family members. To this day I have not had one complaint. (knock on wood!) Everyone is very happy and I get emails thanking me for letting them be part of their lives.